By Maria Shull
Is your Eloqua data dirty?
Got duplicates? Like joe.blogs@company.com and joe.blogs@joeblogs.com?
Do you have to manually (and painfully) dig deep to uncover incomplete or dirty data to enable the rebuilding of a clean data?
If you answered "yes" to any of these questions then good news! You can clean it, dedupe it, rebuild it, and automate it with Eloqua Data Tools. That's right, out-of-the-box tools right there in your Eloqua! No apps or fancy coding needed.
You might ask, "Can't apps on Oracle's AppCloud do the same things as Data Tools?" Yes, some apps can BUT they usually take longer to run since they are not running right there in your Eloqua.
Data Tools in Eloqua are powered by Deduplication Rules, Validation Rules, Update Rules, Match Rules, Lead Stage Rules, and Data Lookups. They are triggered in Eloqua by Programs, Form Steps, or Custom Object Services.
Here's a quick rundown of each tool's purpose:
Deduplication Rules: identifies duplicate data records by looking at multiple fields, partial matches, and phonetic matches for contacts, prospects, and accounts
Validation Rules: used to clean, check, or standardize data field values on existing data or incoming form data
Data Lookups: allow you to add a simple script to an existing web page and have access to any data on a contact, visitor, or company in order to alter content or pre-populate forms
Update Rules: define the conditions under which field values for contacts, custom objects, prospects, and accounts are updated
Match Rules: find data field values that match between different data entity records for contacts, prospects, and accounts
Lead Stage Rules: applied to shared lists, form processing steps, and program builder actions to typically create a contact as a "Lead" identified as being in a specific stage of the sales cycle such as Inquiry, MQL, SAL, etc.
But let's focus on the most popular and useful tools – Deduplication and Validation Rules and when to use each.
Deduplication Rules
These are defined by Eloqua as rules that let you check (contact, prospect, and account) data entities to ensure that there are not duplicate records in the database and remove them permanently from Eloqua in an automated way should you choose to. Deduplication Rules can use multiple fields, partial matches, and "sounds-like" matches to identify contacts or accounts that are duplicated.
What else can Dedup Rules do? Enter Deduplication Handler Sets!
The deduplication handlers are the powerful processing steps that you can choose to run if a duplicate (match) or non-match is found-VERY similar to a form step. In fact, some of the handlers do the same things as form steps. There are options such as delete permanently, update a field, and merge/purge. Handlers also provide conditional and intelligent updating. The deduplication handlers are available for contacts and accounts.  Here's a screenshot from the Eloqua Help Center: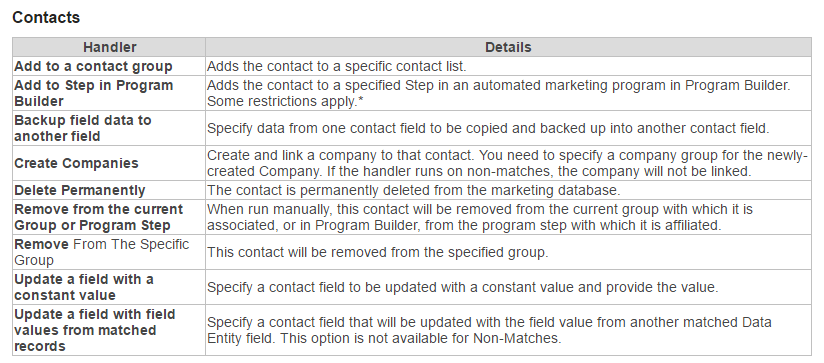 Validation Rules
Validation Rules can be used to ensure that data uploaded into Eloqua or submitted in a form complies with a specific criterion (validation type). They validate whether there is a submitted or uploaded field value, the data type/length, and whether the value is in a specified data set. Values can be replaced with other specified values to normalize data before it's stored in the database.
These are just a couple examples of what Eloqua's Data Tool can do. If you need the step-by-step instructions for how to setup these powerful tools, check the Eloqua Help Center, Topliners, or contact us.
So, Cinderella…why not put away the broom and dust pan? Sit back, start your program, and let Eloqua do your dirty work automatically.
Source:
docs.oracle.com